Michele Hudson, has put a card-based horoscope for the month of June, 2016 using the Morgan-Greer tarot deck and Goddess Guidance cards. What's can your sign expect in the coming month? Want to know? Read on...
---
The month of June 2016 heralds the start of summer and the Summer Solstice on June 21st and a full moon in Sagittarius on June 20th. Talk about a powerful time, according to the Sun and Moon.

What else can you expect to happen this month?

Michele, has put together a tarot and Goddess Guidance based horoscope for June. Find out what the Universe has in store for your sign below.


Aries

Death + Freyja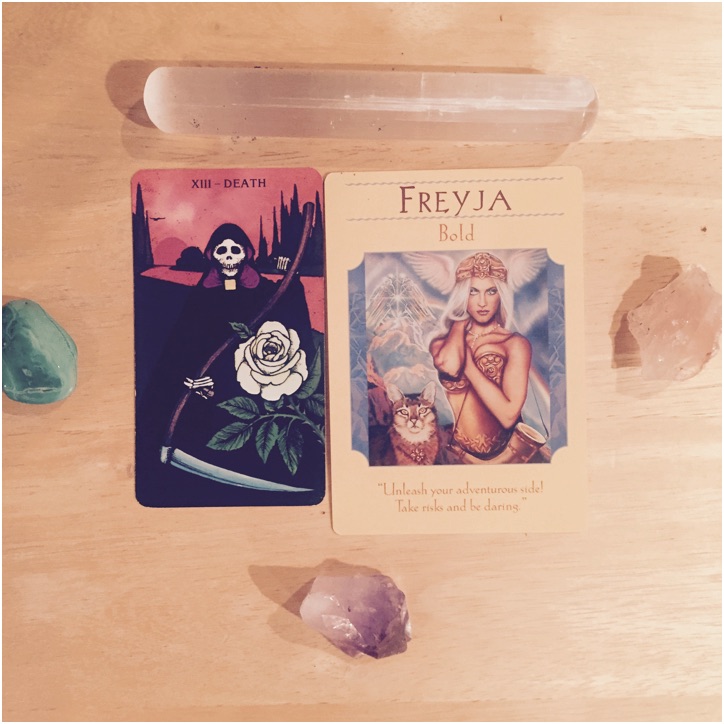 It is time for you to shake off any old, lingering energy. The energy over the last few weeks has been intense with 5 planets in retrograde. Mercury retrograde ended May 22, but its shadow can last until June 7. Now is the time to release the past and indulge in some pleasure. It's not unlike you to be bold, Aries, but now is the time to embrace that part of you.


Taurus

The Star + Abundantia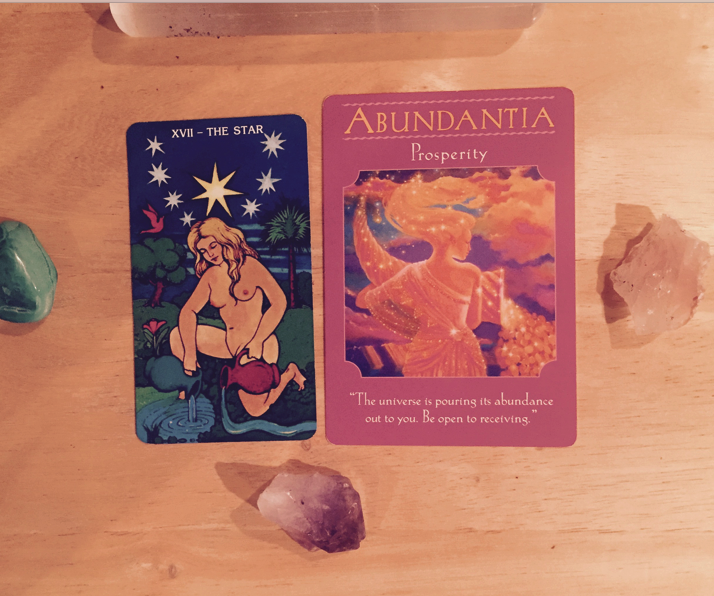 This is an awesome message for June, Taurus. You have been making some changes in your life and this month you'll be reaping the benefits. Continue following your inner guidance and keep noticing the signs placed in front of you (even if they don't make any sense at the time). Abundance is on its way!


Gemini

King of Swords + Eireen


Happy birthday, Gemini! You've been a little bit obsessive with your thoughts lately but it's time to shut off the hamster wheel mind and welcome peace. Worry is a form of prayer, which brings more of that negative energy to you. The universe is strongly saying to have faith and relax – I recommend an Epsom salt bath, a massage, or unwinding with your favorite book and a glass of wine.


Cancer

Ace of Cups + White Tara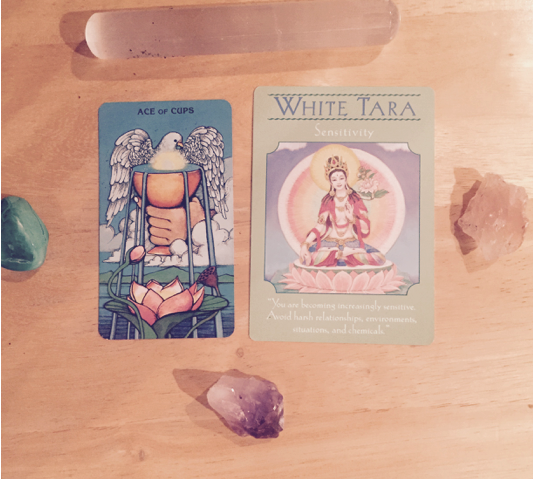 You may feel a bit emotionally charged this month. I recommend being extra gentle with yourself – think yoga, baths, naps, decaf coffee, and eating extra mindfully. Some of you are used to being highly sensitive, but those of who are new to this, trust that your body is pointing you to your purpose. The more you tune in this month, the better guided you'll be. Trusting your sensitivity will bring you to your bliss.


Leo

The World + Kali



This is a strong message of synchronicity happening in your life. You are coming to an end of a project, chapter, or relationship. It may be scary, but you've learned a lot. This lesson was essential to your growth but it is time to move on. If the past 6 months have had any negativity, write the situation or person a love letter. Then burn it or bury it. Learn to dance with the flow of life for every experience is a teacher to you.
Virgo

The Magician + Vesta



Have you been stretching yourself a little too thin lately, Virgo? The energy in the world has been intense lately. Why don't you make some magic at home this month? Dedicate a portion of your free time to taking steps towards your goals (little ones count!) from the sanctuary of your home. If your home is feeling less like a sanctuary and more like a hurricane, commit to sprucing it up. Clean out a drawer of clutter or create a Zen space.

Libra

The Hermit + Eireen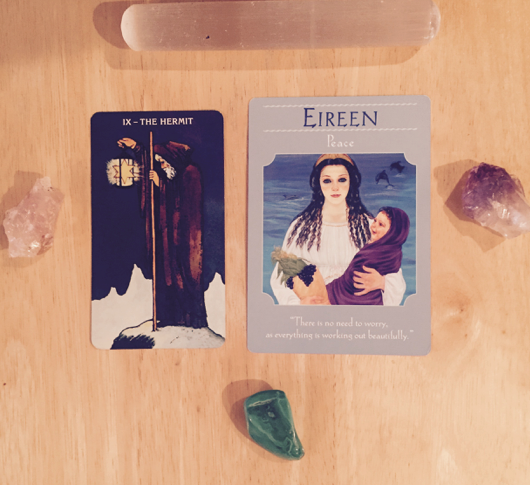 Libra, this month is about going within. I know you can be very externally focused, on ensuring everyone around you is comfortable. This month, I challenge you to focus on you. Meditate, spend time alone, create a God box. Sometimes you need to focus on your own peace, ok?


Scorpio

The Chariot + Bast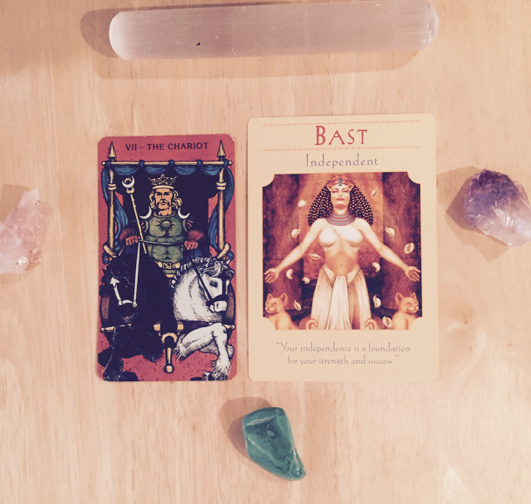 The energy has been intense lately. Now, you don't normally shy away from intensity, Scorpio, but this is a good month to break away from whatever is no longer serving you. Use your power to embrace your life. Have some fun while shedding the weight of the past. You know what to do.


Sagittarius
Queen of Cups + Ishtar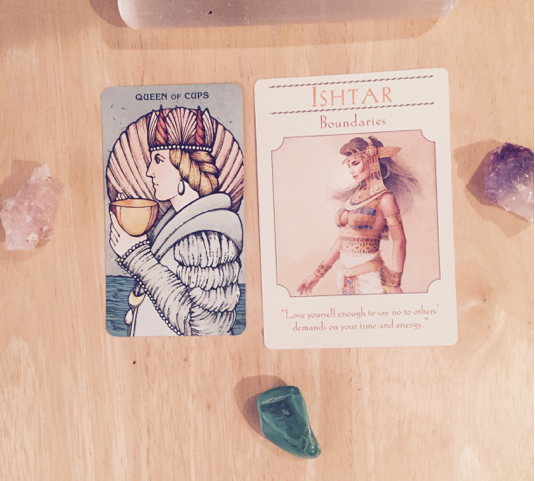 You may be feeling a bit more sensitive or off lately which may feel like you are going against your nature. Please realize that this side of you is more than ok – in fact, it should be embraced. An important lesson you need to learn is to love and show yourself compassion, just as you would to others. Part of self-care is setting up boundaries. Say no when you need to, without guilt. Quit doing things because you feel like you have to, and let go of resentment.


Capricorn

5 of Cups + Hathor


You've been going through a lot lately, dear Capricorn. You tend to take on the world and quite frankly; you are good at doing so. Sometimes, you need to treat yourself as well as you do others (actually, you should all of the time, but I know that's hard for you). Shrug off your heavy cloak you've been carrying around and open yourself up to receive. You deserve it. When you receive more, you can give more (and I know that is important to you). Saying thank you to the little things you receive is a wonderful way to release guilt.


Aquarius

Hierophant + Coventina


Having you been ignoring a tradition or routine that is important to you? Perhaps you've grown a little annoyed with the rigidness of society lately. Why don't you go back to doing something that makes you feel like you? Now would be a good time to purify your life – releasing negative people, food, or drink.


Pisces

Page of Pentacles + Vesta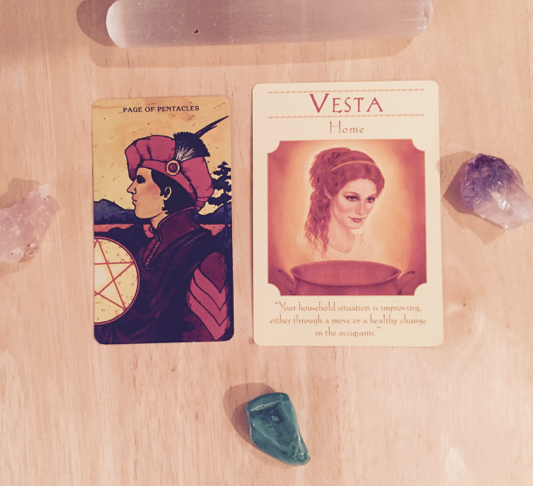 You've been focused on your dreams lately and that is something to be proud of. Right now, you need to ground yourself. Take off your shoes and run your feet through the grass. Create a grounding cord. Make sure your home reflects how you feel inside. Clear out clutter, create a sacred space, and accept the comfort your home brings you during life's changes. Respect yourself, your dreams, and your home because you deserve it.
Would you like to get a more personalized reading? Chat with Michele! Or get a reading from one of our other psychics at PsychicWorld.
---