Sue Ellis-Saller is a Tarot, Angel, and Oracle Card Reader; a Reiki Master; and a Life Coach who helps her clients feel empowered to make positive changes in their lives.
Hi Sue! Thank you for volunteering to be this week's Featured Advisor! Let's get on with the interview, if that's OK with you!

Psychic World: What's your name and how you describe what you do?

Sue Ellis-Saller: Hi! Thank you for asking me to be the Featured Advisor this week! My name is Sue Ellis-Saller, and I'm a Card Reader (Angel, Tarot, and Oracle Cards), a Reiki Master, and a Certified Transformational Life Coach. In my readings, I try to remind my clients about their own power in their lives and also give them lots of guidance about things they can do - including crystal work, meditation, grounding, goal-setting and how to achieve long and short-term goals, and I send Reiki to clients during sessions as well.

Psychic World: Do you have a story about how you got started? How long have you been working with your gifts?

Sue Ellis-Saller: Well, I've been totally into symbolism and esoteric topics since I was a kid. My dad studied astrology for a while, and my family was always watching shows that highlighted paranormal topics and the like. I studied psychology for a bit - actually, I started my university studies in psychology but wasn't able to complete them due to money problems.

I got my first tarot deck when I was 18/19 years old - it was the Thoth tarot deck. I worked exclusively with that deck for a LONG time (this was more than 20 years ago - before the internet and before tarot got as popular as it is today.

I took Doreen Virtue's Angel Tarot Class in 2012, if I remember correctly, and also got my certification in Life Coaching in 2011 from Southwest Institute for Healing Arts, and I was attuned to Reiki in 2011, as well. Those three events were kind of catalysts for my work right now - you see, even though I've been working with symbolism, cards, energy, crystals, etc. for a really long time, getting those certifications and the attunement really solidified the direction I wanted to take my life in. They opened me up to a vast world and catapulted me forward on my spiritual journey - and also got me back into working directly with people in a helping role.




Psychic World: What are your favorite tools/decks/methods of reading?

Sue Ellis-Saller: I use a revolving variety of tarot decks when I work. I usually have at least one Rider-Waite based deck within reach. Right now, I've been working a lot with the Tarot Illuminati. I also bring different oracle decks into most of my readings.

Aside from that, I feel like holding non-judgmental space for a person and using some tools related to life coaching help the person to different possibilities.


Psychic World: Are there any areas you adore working in? (love, career, empowerment)? Or any people you feel that you connect with best (single women who are healing from a past relationship/those who are looking for spiritual advancement)?

Sue Ellis-Saller: As I've mentioned, I love to feel like I am helping people gain more control over their lives and to really own their power and ability to make change - even if change is scary. Generally speaking, I'm fine with working with just about anyone (everyone), but I'd also really like people to understand that the cards and energies that I read give me a clue about possible outcomes, and that there is always the chance to change what will happen in the future.

Psychic World: Any stories about working with a client that you'd like to share or any paranormal/enlightening/near death experiences you feel were significant to your work?

Sue Ellis-Saller: You know, it fascinated me to experience the feeling of energy dripping from my palms when I'd see images of children in the hospital, sick animals, etc. It's like the healing Reiki energy just turns itself on.

Also, it's cool to share visions with people I'm working with - even if they are thousands of miles away from me! It's something extremely profound to say, "Oh, I feel like there is a blockage in the lower-right abdominal area" and have the person say, "YES! I've just been to the doctor for this and it's still bothering me!" Or to hear about how their session with me was a catalyst for profound and dramatic life changes.

I know that, even before I was attuned to Reiki energy, I had been naturally projecting energy into my daughter during her infancy and childhood, and I've shocked a friend from across the room with a random energetic outburst! So, it's just one of those things that has come natural to me, and something that I really enjoy doing.

I feel like combining readings with healing energy and also giving a person tips for how to grow and prosper are the best ways I can help. I've been very blessed to be able to do this work.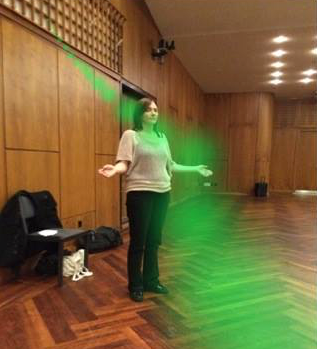 If you'd like to get a tarot reading or a Reiki session from Sue Ellis-Saller, she's running a special offer this week for 99 cents per minute! She's on most days!