How compatible would your favourite TV couples be in real life according to their star signs?
A great way to escape reality and immerse yourself into a make-believe world is by watching your favourite series or films. And let's be honest, we all live the lives of our favourite characters as intensely as they do, especially when it comes to romance.
With that in mind, here at Psychic World, we decided to have a look at the most well-known fictional characters from different series, cartoons and movies, and check their compatibility score – according to their star signs - to see if they would make it in real life.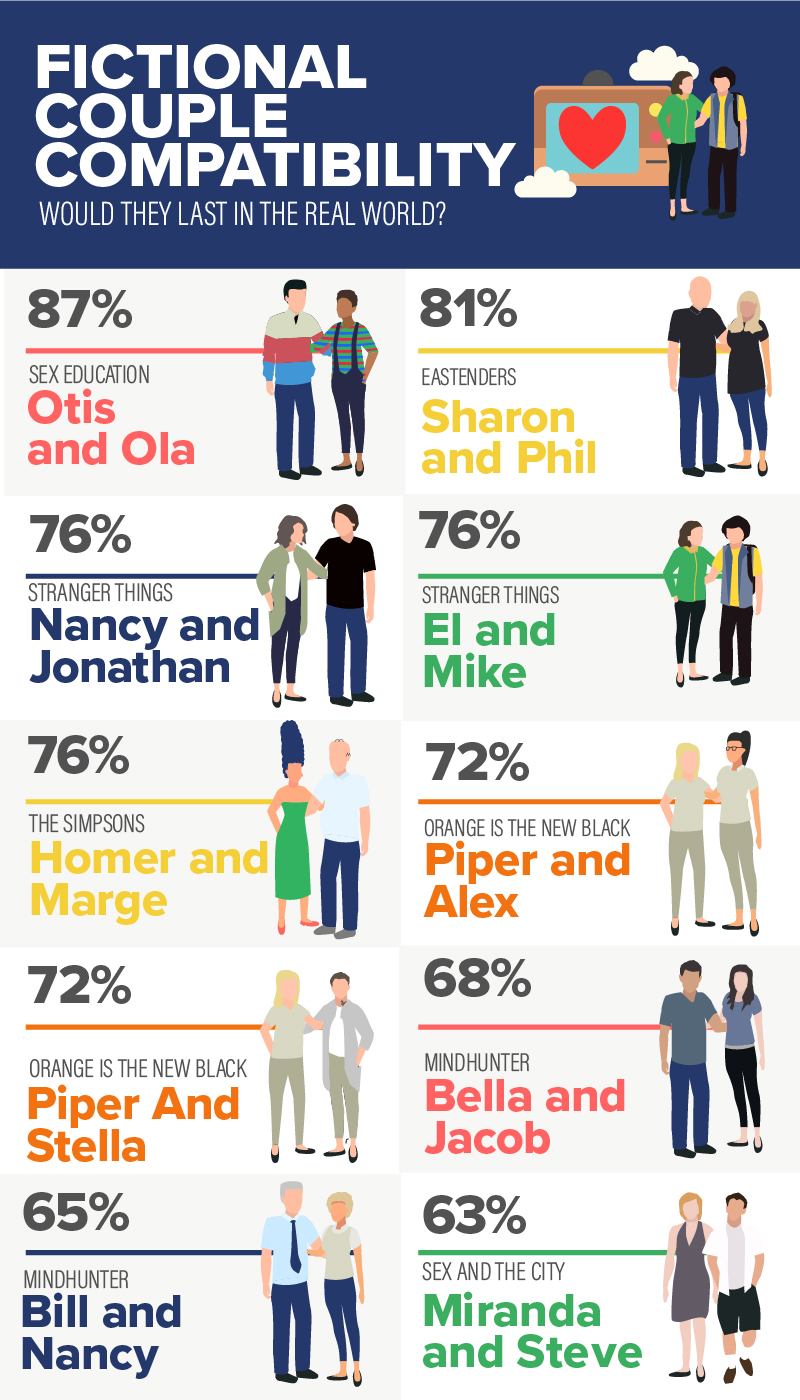 Which fictional couples would live happily ever after in real life?
No.1 Otis and Ola – Sex Education (87%)
Spoiler alert! Otis should've stuck with Ola! Or at least that's what the stars are saying, if they were to date in real life, as Asa Butterfield (Otis) is an Aries, while Patricia Allison (Ola) is a Sagittarius.
While these signs have some healthy differences, it is not enough to pull these signs apart. But if there is a recipe for love, Ola and Otis have it (in the real world at least). There is a lot of potential in this relationship if they are honest and accept each other for who they are.
When looking at Otis and Maeve, they only had a 38% compatibility.
No.2 Sharon and Phil – EastEnders (81%)
Sharon might have married Grant in the beginning, but according to astrology, her relationship to Phil is much stronger– precisely an 81% compatibility score. A relationship between Pisces (Phil) and Scorpio (Sharon) allows both partners to explore new depths of emotional possibilities, making it seem like a fairy tale relationship. Additionally, they're both water signs and rely on emotions more than anything else, so as long as they don't end up suffocating each other too much, Sharon and Phil would most certainly make it in the real world.
No.3 Nancy and Jonathan – Stranger Things (76%)
While not everyone believes in their relationship in the beginning, Nancy and Jonathan made it work, not only in the series, but in real life as well! Natalia Dyer (Nancy) and her co-star Charlie Heaton (Jonathan) started an off-set romance, which we believe could last! Charlie, a Pisces can make Natalia's (Capricorn) life very exciting and unpredictable, while she can offer him the stability he needs.
No.4 El and Mike – Stranger Things (76%)
In 4th place is another Stranger Things couple, El and Mike, whose compatibility is the same as Nancy and Jonathan – 76%. And this is because the actors have the same star signs, while Finn Wolfhard (Mike) is a Capricorn, Millie Bobby Brown (El) is a Pisces. Bad news for the romance between El and Will though – they're only 29% compatible.
No.5 Homer and Marge – The Simpsons (76%)
Going back to the classics, many people would be happy to know our favourite cartoon couple Homer and Marge would make a great pair in real life as well – the voice actors scored a compatibility rating of 76%. Dan Castellaneta (the voice actor for Homer) is a Scorpio, while Julie Kavner (the voice actress for Marge) is a Virgo. While Virgos often have a changeable nature, Scorpios have what it takes to help them settle down, all due to their fixed personalities.
No.6/7 Piper and Alex/Piper and Stella – Orange is the new black (72%)
Interestingly, now we can clearly see Piper has a type – Pisces women, both Alex and Stella sharing the same zodiac sign. As both Cancers and Pisces are waters signs, there is likely to be an instant connection between these individuals (also known as love at first sight). They will need to find a balance between their emotions if they are to work out in reality, as Pieces are physical creatures which if not satisfied, might want to escape the relationship, while Cancers value family life more than anything else.
No.8 Bella and Jacob – Twilight (68%)
We all remember the Twilight frenzy and divisions between team Edward and team Jakob which now we can settle once and for all. The winning team is in fact TEAM JACOB (68% compatibility) – compared to team Edward (63%). Perhaps fate determined their real-life outcome as Kristen Stewart ended up cheating on Robert Pattinson. Things might have worked better if she ended up dating her co-star who played Jakob (Taylor Lautner). While the couple (Aquarius and Aries) – would lack tenderness, and the relationship would be a bit distant, there is potential for it to work if they respect their boundaries.
No.9 Bill and Nancy – Mindhunter (65%)
Mindhunter was an instant hit with crime lovers, and while the first season focused more on the romance between Debbie and Holden, the second season is all about his partner Bill and his wife Nancy. But while their marriage is on the rocks in the series, they might have a better chance to work things out in real life. Both partners are Virgos and have a compatibility score of 65%. They are both rational, but their emotions can change very fast. If they let themselves sometimes act with the heart rather than with just the brain, this relationship could be viable!
No. 10 Bella and Edward – Twilight (65%)
As mentioned before, we finally settled the big debate of whether Bella should've stuck with Edward or Jakob and the answer was Jakob! Although to be fair, there isn't a big compatibility difference, so perhaps in this case she shouldn't worry too much about the signs and go with her gut feeling, both relationship having potential to work on the outside.
Here are the other top 25 fictional couples and how compatible they would be in reality:
| | | |
| --- | --- | --- |
| Otis and Ola | Sex Education | 87% |
| Sharon and Phil | EastEnders | 81% |
| Nancy and Jonathan | Stranger Things | 76% |
| Homer and Marge | The Simpsons | 76% |
| Piper and Alex | Orange is the new black | 72% |
| Piper and Stella | Orange is the new black | 72% |
| Bella and Jacob | Twilight | 68% |
| Bill and Nancy | Mindhunter | 65% |
| Bella and Edward | Twilight | 63% |
| Miranda and Steve | Sex and the City | 63% |
| Holden and Debbie | Mindhunter | 62% |
| Blair and Dan | Gossip Girl | 48% |
| Joyce and Hopper | Stranger Things | 48% |
| Joe Goldberg and Beck | You | 48% |
| Joe Goldberg and Love | You | 48% |
| Carrie and Mr. Big | Sex and the City | 48% |
| Gloria and Jay | Modern Family | 47% |
| Blair and Chuck | Gossip Girl | 47% |
| Hermione and Ron | Harry Potter | 42% |
| Rick and Lori | The Walking Dead | 40% |
| Shane and Lori | The Walking Dead | 40% |
| Maeve and Otis | Sex Education | 38% |
| Nancy and Billy | Stranger Things | 38% |
| Zack and Kelly | Saved By the Bell | 38% |
| | | |