PsychicWorld makeover update!
We are very excited to show our updated website for a much more friendly user experience.
After weeks of hard work we can finally show some of the new features we worked on for the website we hope you enjoy it.
Keep in mind we are still in 'beta'. This is a technical term for saying the website is not completely finished yet and small problems could arise (so please be lenient and know that we will fix all the issues that are are reported).
New chat design
We have updated our chat design. We implemented a background, new button designs, new top up buttons on our mobile and desktop view and more!
Top up credits now during a chat with the new to up button in the menu of the desktop view.

Running out of credits? We warn you now 5 minutes and 3 minutes before your credits run out.

Expandable input field, we have optimised our input field. It is now much easier to read back a message you like to send.


Improved emoticon field, it's now easier to close the emoticon. Close it by clicking next it to or by clicking in the input field

Default message, we have added a welcome message to the start of every chat session. Guiding you through our menu navigation.

Improved contact me option
We have improved our contact option. Psychics will now be able to reply faster to your contact or appointment requests. And it's easier to reply back to a psychic to make an appointment. After you reached out to a psychic your message, a follow up messages will be shown in your message environment.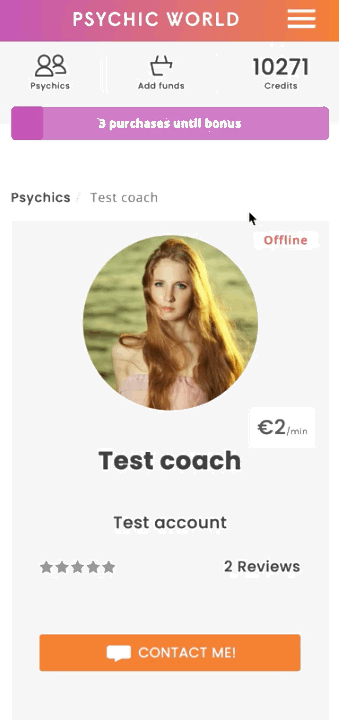 Remove your chat sessions
It's now possible to remove your chat sessions in your chat history and keep the ones you like.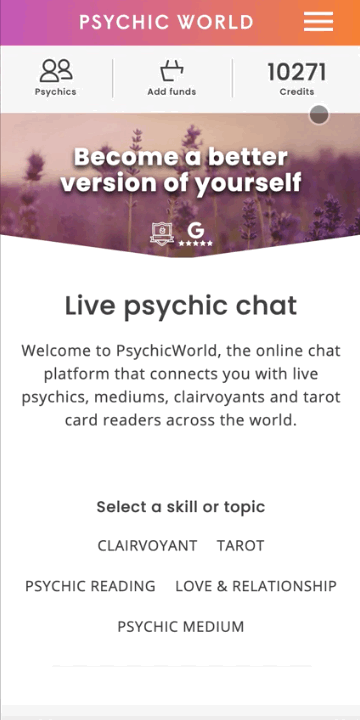 We hope you enjoy the new features. If any kind of bugs come up don't forget to take a screenshot so we can analyse the problem much faster and send it to us. We are still working on an additional set of updates (to be released in the coming weeks) in order to make this website the best place on the internet to chat with your favorite psychics.
Feedback lottery - free minute giveaway
Do you have any positive or constructive feedback for us? Join our feedback lottery. We now give away 3 free readings ($20 dollar/credits each) Go to our contact form and let us know how you feel about PsychicWorld and all the new changes. We love to get constructive feedback, so we'll know what to improve next! :D