REVEALED: The Best Locations to Relax Around the World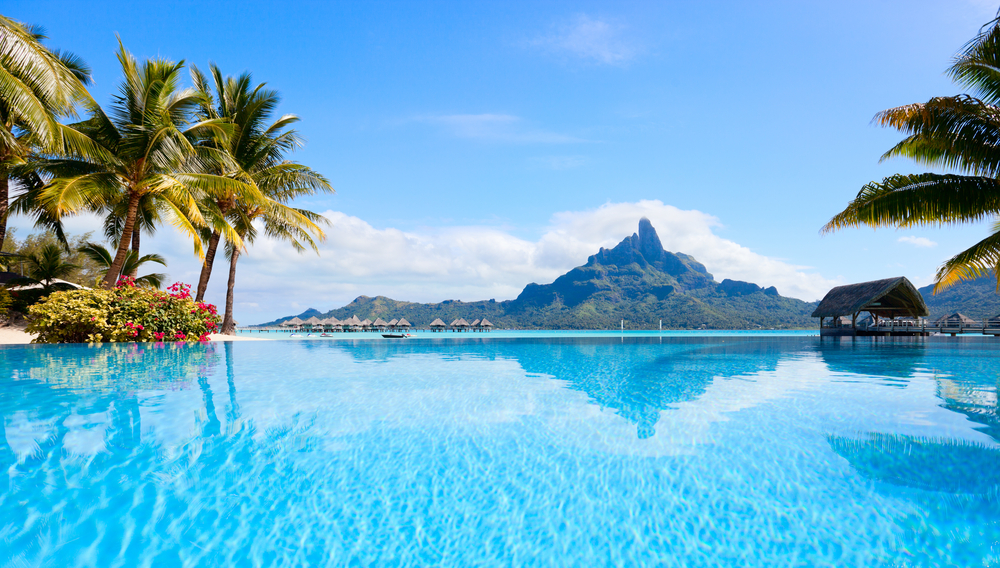 Feature image credit: BlueOrange Studio / Shutterstock
When it comes to 'gram-worthy spots, there are many dotted across the globe. But which locations are the best to relax and unwind?
From retreats buried in rainforests to immaculate white beaches, we've rounded up the most photogenic locations around the world to identify which locations are ideal to escape to on your next holiday. To do this, PsychicWorld.com first identified the most relaxing retreats around the world, and then scoured Instagram to find out which places are hashtagged the most on Instagram.
The Top 10 Most Popular Locations
1. Phuket, Thailand (9.7M)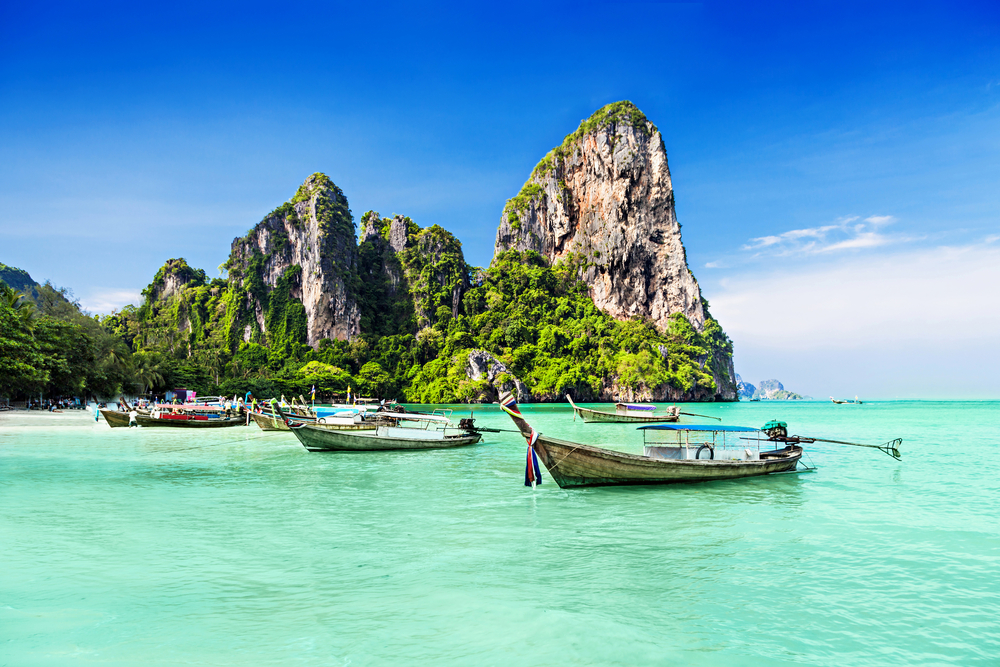 Photo credit: saiko3p / Shutterstock
From white-gold beaches to stunning jade-hued waves, it's no surprise that Phuket is the most Instagrammed relaxing location in the world, collecting a whopping 9.7 million hashtags from users on the popular photo sharing app.
Thailand's largest island is popular among tourists for the vast range of activities and tours available, from day trips to beaches, natural wonders to explore, cultural heritage (such as museums and temples) – the perfect spot to escape to soothe the soul.
2. The Maldives (8.3M)
The Maldives is picture-perfect – and it's even better in real life – so it's no wonder it's a hit with celebrities like the Kardashians! With a range of private white-sand islands, surrounded by crystal blue waters, it's the ultimate luxury island escape for some R&R. As a result, it comes as no surprise that it's the second most Instagrammed location in the world, with an impressive 8.3 million hashtags on the 'gram.
With the island offering a vast range of experiences to get lost in – from exploring the island's marine wildlife whilst scuba diving, sipping on cocktails, and escaping to an inhabited island for a spot of sunbathing, meditation or yoga – it's the perfect spot to relax.
3. Tulum, Mexico (5.9M)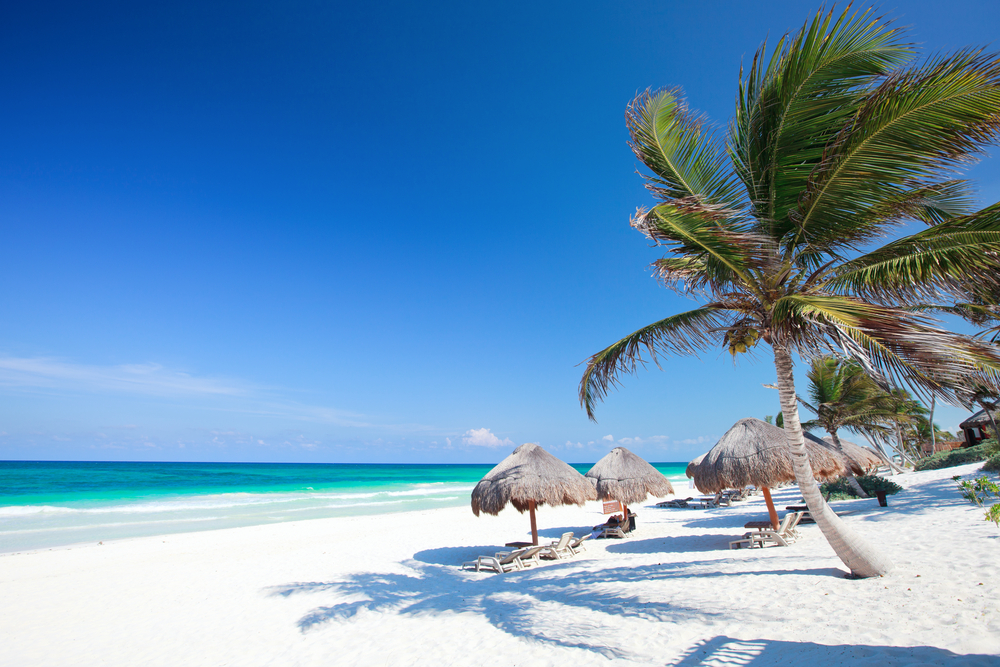 Photo credit: BlueOrange Studio / Shutterstock
With 5.9 million hashtags on Instagram, the third most Instagrammed relaxing retreat is Tulum, a town on the Caribbean coastline of Mexico's Yucatán Peninsula.
Tulum is well-known for its crystal-clear waters and golden sand akin to a Windows background, and well-preserved ruins of the ancient Mayan port city, making it one of the best locations for rejuvenating the mind and body.
4. Ubud, Bali (4.8M)
The town of Ubud, located in the hills of Bali, Indonesia, is surrounded by stunning rainforest, Hindu temples, and shrines. It's unsurprising that the town ranks as the fourth most popular location to take a relaxing holiday, with 4.8 million photos hashtagging the spot on Instagram.
There is plenty to do for those looking to immerse themselves in the culture, from the town's intricately carved Goa Gajah ("Elephant Cave") and Gunung Kawi with its rock-cut shrines – both a must-see and a great spot for a mindfulness session!
5. Mykonos, Greece (4.3M)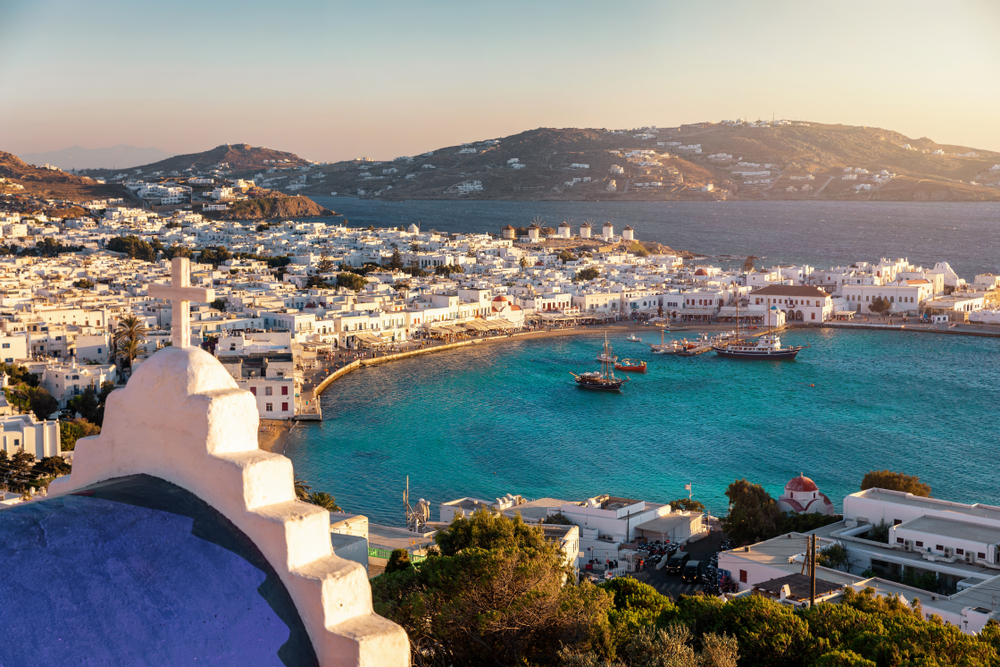 Photo credit: Sven Hansche / Shutterstock
Rounding off the top 5 most Instagrammed locations is Mykonos, an island off the coast of mainland Greece, with 4.3 million hashtags on Instagram! The island is best known for its St-Tropez-meets-Ibiza style, which is why it's a hit among youngsters and celebrities looking for some fun and to let their hair down.
All buildings are stereotypically whitewashed and inhabited by boutique shops, chic cafes, hip hotels, beach bars and restaurants, as well as a row of "Instagrammable" 16th-century windmills sitting on a hill above Mykonos town.
Other Instagrammable relaxing locations include Siem Reap in Cambodia, with just over 2 million hashtags (2.2) and Langkawi in Malaysia earning a sweet 2 million on the nose! Following closely behind in eighth, ninth and tenth are Sedona in Arizona, Bora Bora in French Polynesia, and Nha Trang in Vietnam, with 1.7 million, 1.6 million and 1.4 million hashtags, respectively.
Quiet, Low-Key Locations to Visit
As part of our research, we also sought to find out which relaxing locations were the least Instagrammed, suggesting they are the quietest retreats to escape to for your next holiday.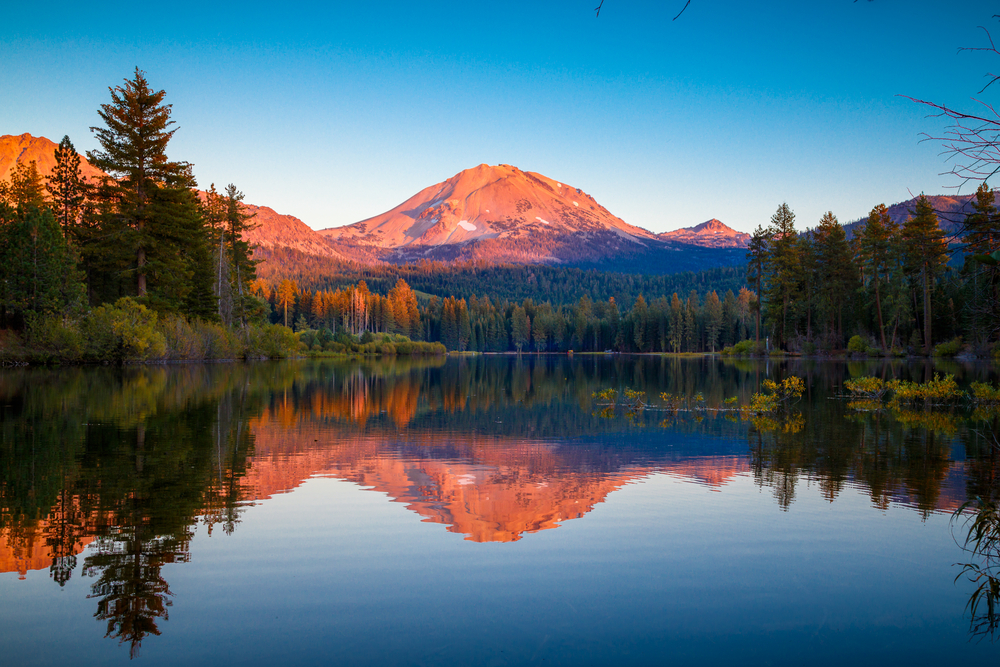 Lassen Peak | Photo credit: Engel Ching / Shutterstock
Mount Lassen Volcanic National Park in California is home to Lassen Peak, the largest plug dome volcano in the world. In spite of this, it's one of the least Instagrammed spots in the world, with a mere 23 hashtags on the app.
Next up is Saruni Samburu Safari Camp in Northern Kenya, a first-class luxury safari experience in a totally unspoilt landscape. Despite this, the location has just shy of one thousand hashtags (910). Perhaps this is because a safari just isn't "Instagrammable" enough, but if being surrounded by wildlife and nature is your "thing", this is a great quiet spot to unwind in.
Following the Kenyan safari is the luxury holiday destination of Santa Catarina Palopo in Guatemala, Mexico. Those looking for some R&R may want to visit Casa Palopo, which overlooks the stunning bright blue-hued Lake Atitlan and is surrounded by breath-taking views of volcanoes. Even though it sounds perfect for the 'gram, the quiet suburban retreat has only 1,600 hashtags – the perfect spot to reset the mind!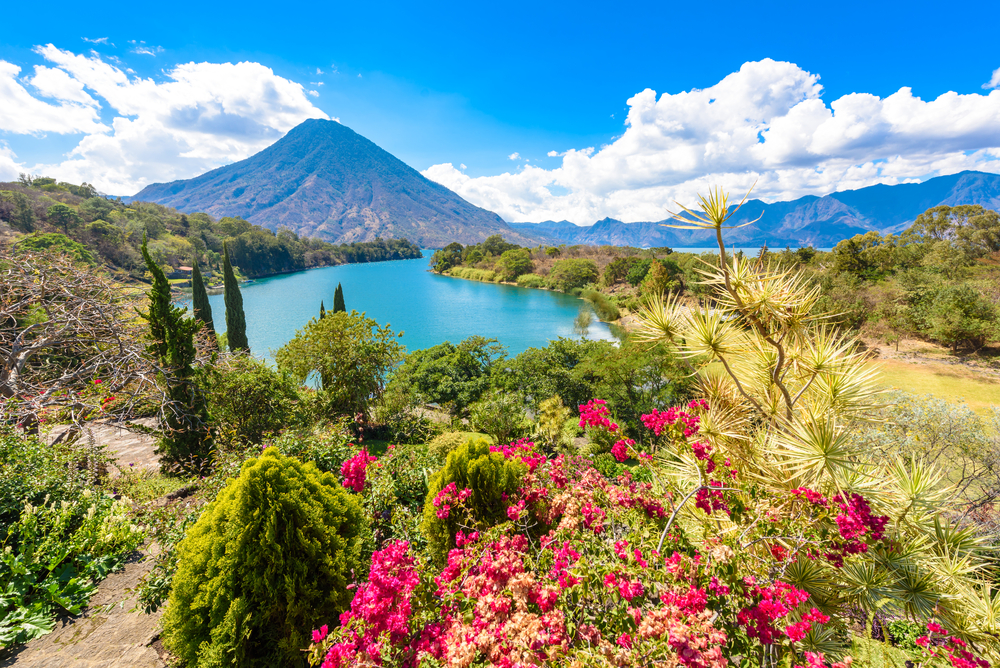 Lake Atitlan with a volcano in the background | Photo credit: Simon Dannhauer / Shutterstock
Thereafter is Ang Thong National Park in Thailand, home to more than 40 jungle islands with stunning limestone cliffs, hidden lagoons and picture-perfect beaches to relax on. This location is fairly quiet in comparison to other islands in Thailand (like Phuket which is the most Instagrammed!), with 3,600 hashtags overall.
Another location to visit for some relaxation is Nayara Springs, in Costa Rica – a place of understated luxury where you disconnect from the world and be at one with nature. This is the fifth most Instagrammed location, with 4,200 hashtags on Instagram – a whopping 9,695,800 less than first place Phuket!
Which Continent Is Home to The Most Instagrammed Locations?
Of all relaxing locations that we considered, we sought to find out which continent is the most Instagrammable. To do this, we considered all locations with more than 1 million hashtags for each continent.
The continent crowned as the most Instagrammable is Asia, with 7 locations having over 1 million hashtags, with hashtags for all locations amassing a staggering 29 million!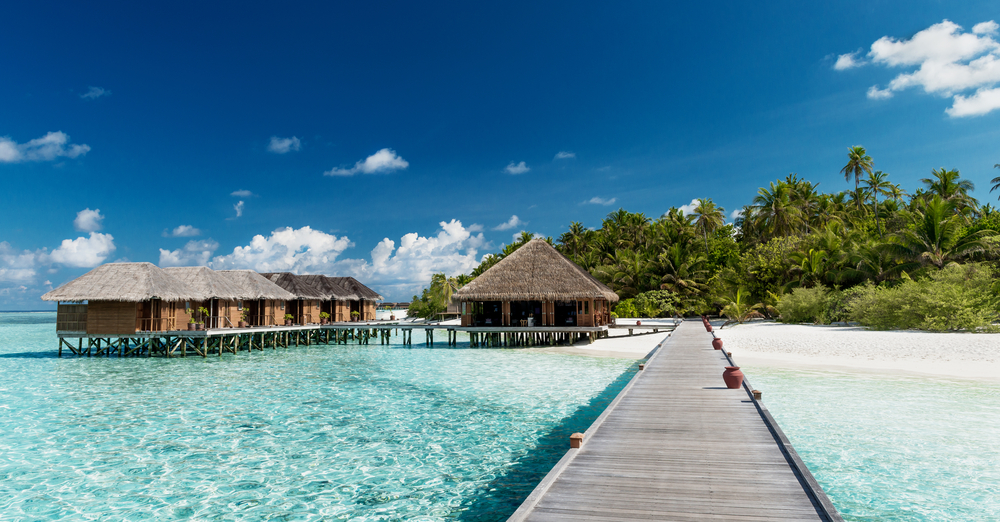 The Maldives | Photo credit: Loocid / Shutterstock
The 7 locations include:
Phuket, Thailand – 9.7 million
The Maldives – 8.3 million
Ubud, Bali – 4.8 million
Siem Reap, Cambodia – 2.2 million
Langkawi, Malaysia – 2 million
Nha Trang, Vietnam – 1.4 million
Following behind is North America, with two locations amassing more than 1 million hashtags on the popular photo sharing app. Tulum in Mexico (5.9 million hashtags) and Sedona in Arizona (1.7 million hashtags) share a whopping 7,600,000 hashtags between them.
Continents each with just one location collecting more than 1 million hashtags are found in Europe (Mykonos – 4.3 million), Oceania (Bora Bora – 1.6 million hashtags), and Africa (The Seychelles – 1.4 million hashtags).
You may also like: The Most Photogenic Spiritual Travel Destinations in the World