Answers to life's problems sometimes arrive from unusual sources, you may never have experienced a Tarot Reading in the past, yet they can give indications of your future to guide you in making decisions that are right for you and an online tarot reading could be best for an initial reading. Want to read more free cards? Go to the free card reading overview

Weekly card draw
Every week our tarot card drawer draws three cards with personal message. Choose your own spiritual card. Please follow the weekly card draw on Facebook.
Below the cards for week 49 (2019)
Draw card 1
Draw card 2
Draw card 3
---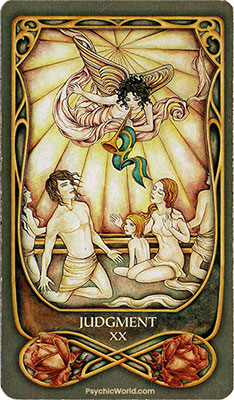 Card 1 - Judgement
Change · Decisions · Success · Transformation · Upheaval
Judgment tells a story of transition, but unlike Death or the Tower, it is not sudden change, or born of luck or intuition, but change that springs from reason. It signifies plans, often long in the making, coming to fruition. If it points towards the future, it may also speak towards the nature of the change; if there is a choice that needs to be made, ruminate and let your mind guide the decision. Logic, in this case, is a better guide than intuition. Be prepared to make a major decision in your life, likely one that will shape the next chapter of your life.
Past
Your past is full of good work, but the process of your liberation from those experiences is ongoing. You are beginning a new chapter in your life.
Present
The present has arrived and the past is relinquishing its hold on your fate. This is the best time to change an element of your lifestyle.
Future
The fruits of your decisions are coming and you will receive that which you deserve. The path at your feet and the direction it is leading you are clear. You will see your ultimate desire through to the end.
Yes / No Key Interpretation
The Judgement card is representative of some sort of change or transformation, likely one that has already occurred. It could mean the presence of a spiritual or professional calling and making decisions that will lead to your success. The answer to your question is yes.
---
Discover your path to true happiness
Get an empowering psychic reading.
50% introduction discount
*Chat 15 minutes for only 10 dollars
Register now


*Only 95 introduction coupons left.

Expires Tonight 23:59
---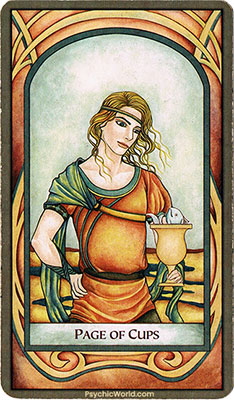 Card 2 - Page of Cups
Announcement · Birth · Creative ideas · Good news · Message
The Page of Cups, if it refers to you in your spread, suggests an introspective nature, inclined towards art, and possessing a kind heart. You may let credit you deserve pass you by out of shyness. The card may also be indicative of someone, likely overlooked, in your own life who is in a position to aid you in pursuit of a specific goal. Although somewhat dependent on its position in your spread, the Page is generally the bearer of good news.
Past
There is an idea you have already had that can be developed further for greater results. Your awareness of the obstacles before you will lead you to an understanding of the best ways around them.
Present
Good news will reach you and remind you of the importance of a fresh outlook on life. See the humour in life and remember the healing power of laughter.
Future
Be prepared for an upcoming opportunity. It will pass you by too easily if you are not ready to seize it for yourself. The emotional struggles you pass through will teach you how to love more deeply and intimately.
Yes / No Key Interpretation
The Page of Cups is a gentle, artistic, dreamer-type messenger. He brings with him announcements of good news and messages of new, serene beginnings. All dealings with this card are of a positive nature, and the answer it represents is yes.
---
Discover your path to true happiness
Get an empowering psychic reading.
50% introduction discount
*Chat 15 minutes for only 10 dollars
Register now


*Only 95 introduction coupons left.

Expires Tonight 23:59
---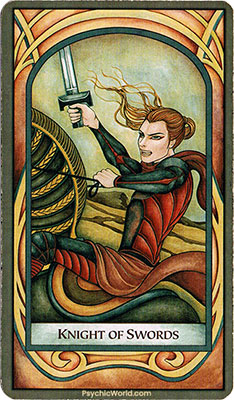 Card 3 - Knight of Swords
Conflict · Destruction · Domineering · Loss · Unexpected
If you or someone close to you is represented by the Knight of Swords, beware. It is symbolic of a forceful personality, one which combines zealous dedication to success with razor-sharp intellect. However, whether in the form of a companion or your own inner nature, these same attributes can give rise to a formidable enemy. When it refers instead to your circumstances, the Knight suggests you are headed for turbulent times, which can be most successfully faced with decisive action on your part.
Past
The desire for change has been strengthening inside of you. Plan your future objectives but keep them to yourself.
Present
You gain the attention of a young upstart. A problem will be solved through the help you receive, but be prepared to deal with a new one.
Future
Your life's compass may be suddenly realigned by a drastic change in perspective. Look to your friends and loved ones for encouragement.
Yes / No Key Interpretation
The Knight of Swords is domineering and destructive. He represents taking control of a project or situation but in a ruthless manner. This card portends unexpected loss, conflict, and a need to establish your own ideas and beliefs. The negative tone of this card suggests an answer of no.
---
Discover your path to true happiness
Get an empowering psychic reading.
50% introduction discount
*Chat 15 minutes for only 10 dollars
Register now


*Only 95 introduction coupons left.

Expires Tonight 23:59
---
Please follow the weekly card draw on Facebook.
Ways Tarot Readings Assist Individuals
Tarot Readings rely upon the cards for indications. This ancient wisdom is another key to your soul, allowing you to become more self aware and understand your reasons for behaving in the ways you do. You will start to realize the deeper purpose to your life, it's often hidden to most people as they aren't prepared to dig deep within themselves and take the step forward into understanding. As your online Tarot Reading progresses you will see the way the Tarot Cards fall into a spread becomes more relevant to your situation. Your professional Tarot Reader has developed skills in clairvoyancy over many years of practicing Tarot and when this is combined with your energies, the Tarot deck will attune to you and your life situation.
You should not expect your Tarot Reading to provide direct answers to the questions you need answered. It is a way for you to divine your path in life after examining all the options available, using your own insight and wisdom while being guided by the way the Tarot Cards fall into spreads. The difference between expert Tarot Readers and novice readers is the understanding and awareness applied by the Reader to the spread of cards and depth of meaning extracted from spreads. It's easy to gain superficial understanding and insight from a spread, answering some problems in a basic fashion. Skilled and knowledgeable psychicworld.com Tarot Readers have acquired deeper levels of meaning and information from the cards.
Benefits of Online Tarot Reading
The deck of Tarot Cards and Tarot Readings are an ancient form of wisdom, which may have originated in Egypt or the Far East in either India or China. The philosophies of the ancient worlds have helped mankind for centuries and Tarot Readings are no exception.
When you opt for an online Tarot Reading from psychicworld.com, you are choosing readings from experts who have spent many years honing their skills in Tarot. Finding a Tarot Reader in your community may be more difficult, particularly if you are looking for the best readers with the most knowledge of the ancient art. Arranging an online Tarot Reading allows you to select from a number of different readers, to find the expert reader most suited to your needs.
Before your reading, you should relax and quietly contemplate the questions you want answering. Your Tarot Reading can be directed to find the answers to queries about relationships, career and money, finances, love and lifestyle. In fact, any problems in life that need thinking through with care can be addressed by your Tarot Reader and your influence and energies will be used to predict and divine what could be the best answers for you.
Achieving spiritual awareness and knowledge is a difficult target for anybody, particularly when life's pressures can cause so much stress. The very task of living and surviving takes over for many people, they don't dig into their inner psyche to discover the wealth of inner peace that can be achieved. You can develop your true inner self, with the assistance of Tarot Reading and other forms of ancient philosophy available from psychicworld.com. When you take time to develop your personal inner wisdom, you will reflect greater self confidence and awareness, attracting other people to your aura and being. Don't struggle with problems or jump from one crisis to another, when skilled Tarot Readers can assist you in achieving the life balance you need, and making the right decisions in life to ensure you keep moving forward and growing.