Google Reveals: The Most Spiritual Cities in the UK
Searches for psychics and their services are on the rise. In fact, according to one of Psychic World's latest studies, almost 80% of Brits sought advice from psychics during the Coronavirus lockdown in the UK. We found that 80% of people sought psychic services to see into their future, 74% wanted love advice, and 67% wanted job advice.
With this in mind, the team at PsychicWorld.com sought to discover which cities in the UK are most open to psychic advice. To do this, we scraped Google data to find out how many times Brits are asking psychic-related queries in 30 of the biggest UK cities to identify which city is the most 'spiritual'.
Where are the most spiritual cities in UK?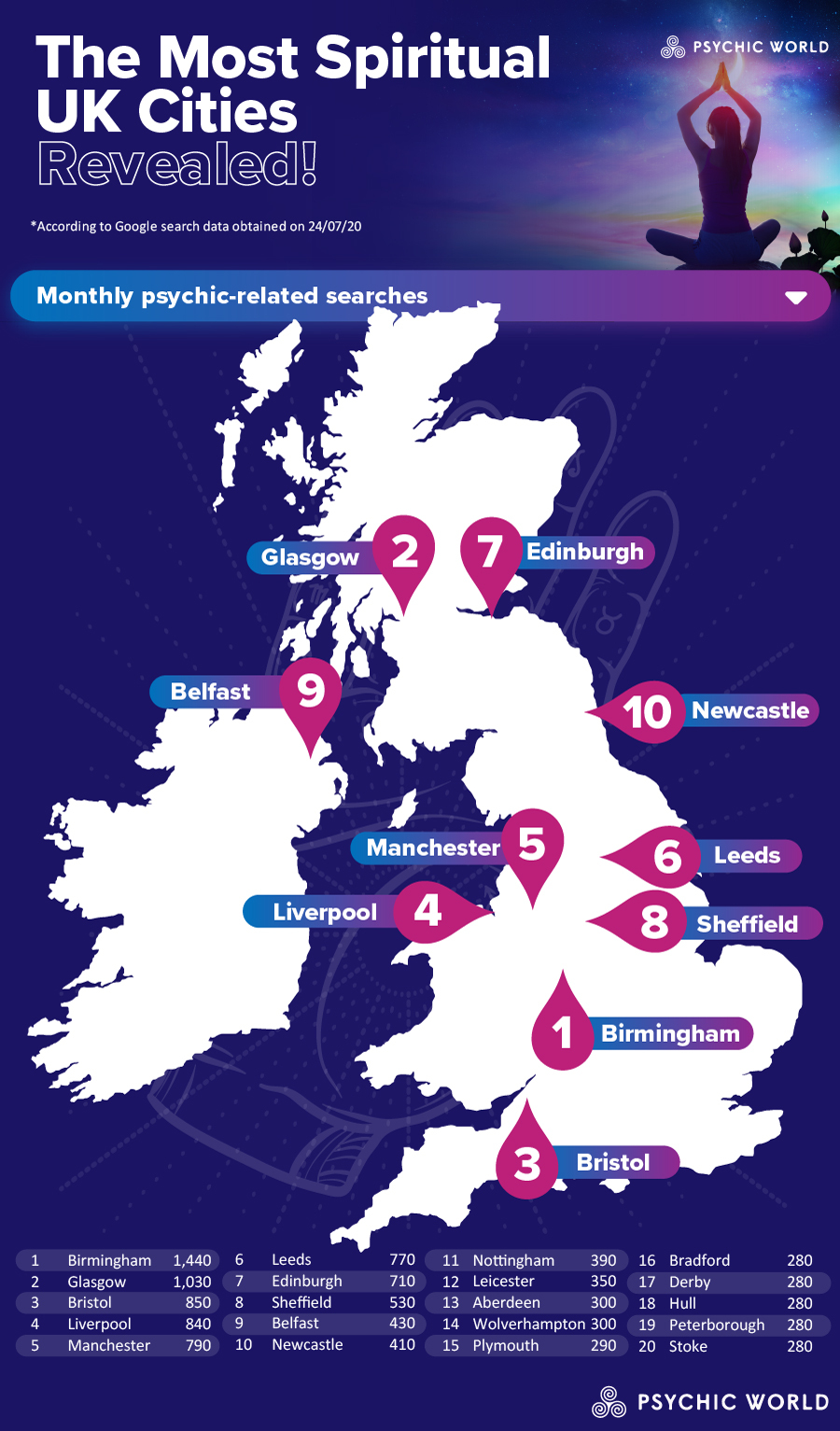 We can reveal that Birmingham is the most spiritual city in the UK, with around 1,440 searches a month from Brummie residents searching for online psychics, fortune tellers and more!
Brummies are followed by Glaswegians in second place, with 1,030 searches per month asking Google queries relating to psychics and their services. Maybe it's the abundance of Scottish ghost stories or the mystery of the famous Loch Ness monster that means so many Glasgow residents trust in psychics and believe in the supernatural.
The third most spiritual city in the UK is Bristol, with just under 1,000 searches a month for psychic-related queries. Their belief in the occult is strong as 260 of their total 850 searches are spent trying to find a 'clairvoyant'!
Fourth, fifth and sixth place go Liverpool, Manchester, and Leeds with 840, 790 and 770 monthly psychic-related searches, respectively! According to a recent study, Leeds came in as the 13th spookiest city, and Manchester recorded a whopping 67 haunted houses, which might explain their burgeoning interest in psychics.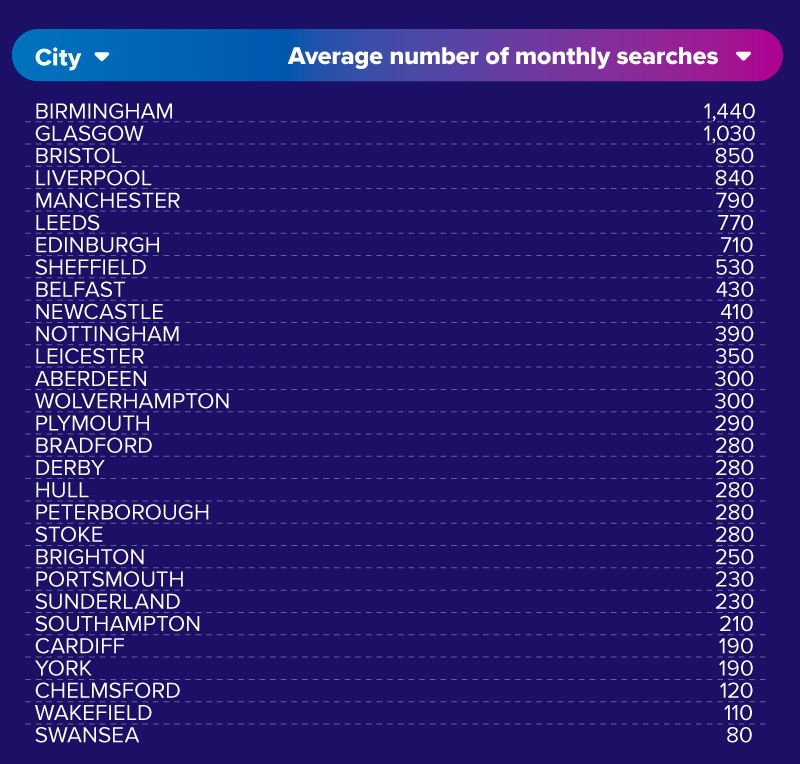 To make up the top 10 spiritual cities in the UK, seventh, eighth, ninth and tenth spot go to the following cities:
Edinburgh – 710 monthly searches
Sheffield – 530 monthly searches
Belfast – 430 monthly searches
Newcastle – 410 monthly searches
Flipping the table and coming last is the Welsh city of Swansea with just 80 searches per month for psychic-related queries. That's a staggering 18 times less than Birmingham who takes the top spot with 1,440 searches!
The most popular psychic readings among Brits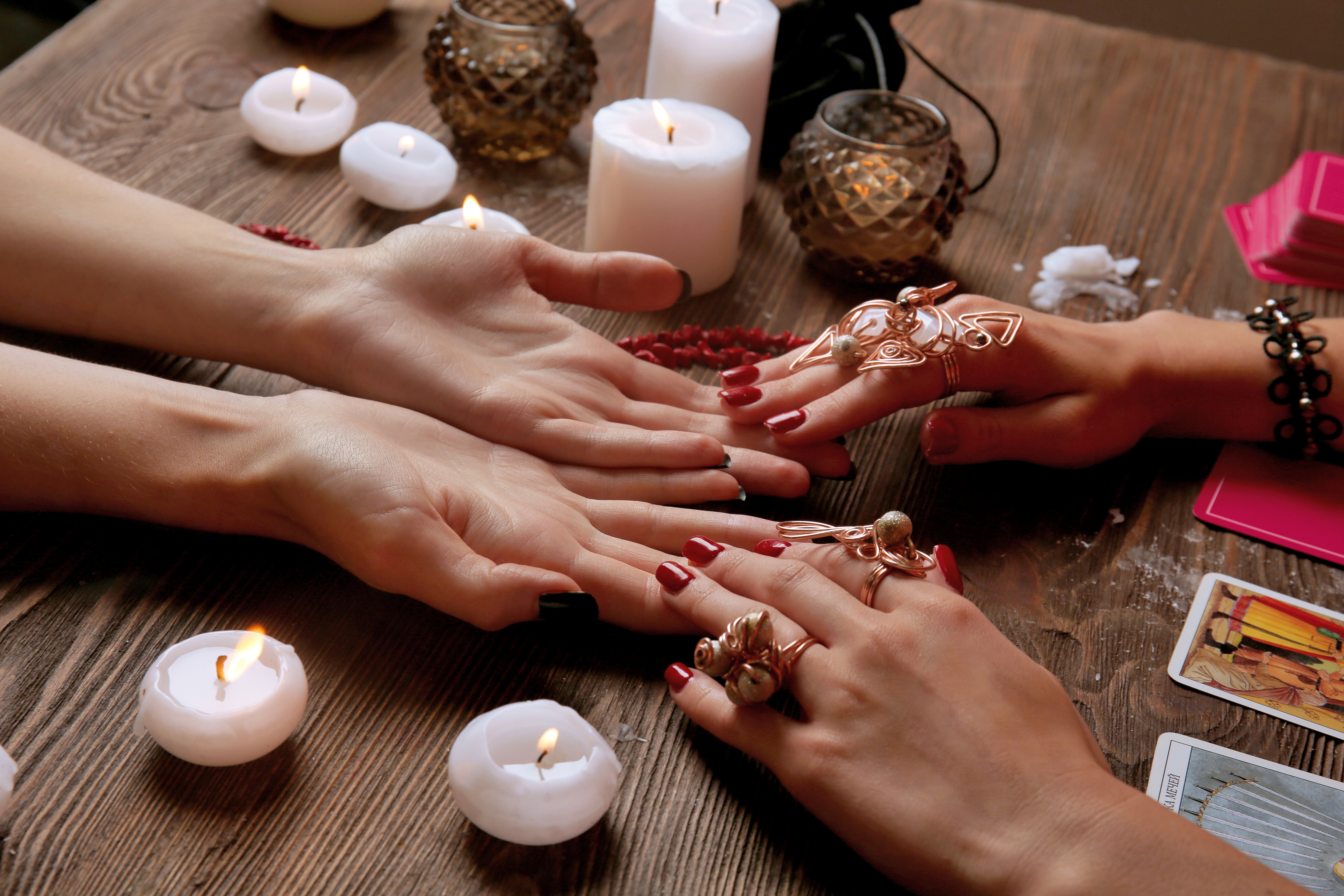 (Photo Credit: Africa studio/Shutterstock.com)
With so many people curious about psychics and wondering what the future has in store for them, here are the most popular psychic readings Brits are searching for according to our analysis:
1. Astrology
Perhaps the most popular and a cult in many lifestyle mags, astrology is the study of the movements of celestial bodies and how they influence us and the natural world. Commonly known as your 'horoscope', studying astrology and the zodiac signs can provide a forecast to an individual's future.
2. Aura readings
Aura readings involve the observation of the energy/electromagnetic field surrounding a person's body. Methods generally include the interpretation of auras as layers and 'colours' of your personality.
3. Tarot readings
Tarot reading is a type of card-related fortune-telling (a.k.a. cartomancy) used to gain an insight into an individual's past, present and future. It is done by formulating a question, drawing cards, and then interpreting the answers from them.
4. Palmistry
Commonly known as palm reading, this method involves the foretelling of someone's future through the study of their palms. It includes interpreting hand shape, visible hand lines and other features.
5. Lithomancy
Lithomancy involves immersing gems or stones in water and then reading them by mutual proximity. A mainstream version includes using crystal balls to tap into and interpret visions seen through them.
6. Numerology
In numerology, a clairvoyant studies the meanings of numbers with regards to an individual. They will read the person based on numbers such as their date of birth, number of letters in their name, and more! You can test your own here.
If you're interested in any of these psychic readings, find out who your local psychic is on Psychic World. Choosing a psychic isn't an easy task, but we're on hand to help you choose the right psychic for your wants and needs.

Methodology:
To find out which UK cities are the spiritual, PsychicWorld.com analysed Google data to find out which cities are searching for psychic-related queries the most, on average. To do this, PsychicWorld.com inputted the following terms into Google Adwords on 24/07/2020 for each city: psychic, online psychic, fortune teller, tarot reading, spiritual healer, clairvoyant, aura reading and crystal ball reading/gazing.
The number of times each of these queries were searched for on Google in each of the 30 biggest cities in the UK were then added together to achieve a combined total of "spiritual" searches per city. PsychicWorld.com then used this to determine which city is the most spiritual, and the least.