beginners guide to: Cartomancy
By PsychicWorld.com©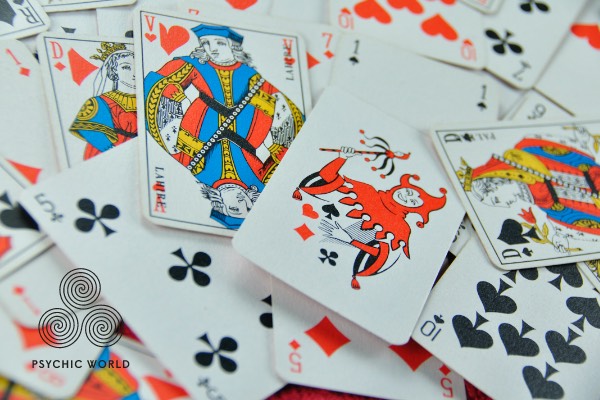 A reading will utilise a standard deck of playing cards and your advisor will read the 'spread' of cards to provide insight into your personality and spiritual self, helping to tell your fortunes.
This form of divination is one of the oldest forms of fortune telling and was spread across 14th century Europe, soon after playing cards were first popularised, by the Gypsy community. Gypsy travellers and other early practitioners were known as cartomancers or card readers and have given readings to seekers all over the world.
What is a cartomancy reading?
When people are playing Poker or Bridge they may not be aware that they are playing with the original tarot cards. While there are many similarities, we should first separate cartomancy readings from other card-related forms of divination such as tarot cards, which have developed more recently.
Each card of a standard 52 deck represents a different aspect within your life and is often augmented with the jokers. One self-evident example can be seen in the ace of hearts signifying attraction and love. Each card therefore has a name such as "The Payer", "The Viewer" or "The Negotiator".
The four suits relate to the elements; Earth, Wind, Fire, and Water. There are also picture cards of hierarchy; Kings, Queens and Jacks. There are however fewer images than in tarot cards.
How are card spreads used?
Readings are told through the different combinations of cards or 'spreads' which help to highlight specific traits of your personality and how this will shape your future.
By using various spreads, one can obtain detailed readings. While each of the cards has a meaning, when you lay them out in a certain way, the interpretations deepen. Some common combinations include:
Single Cards = Quick Answers.

3 Card Spread = Past, Present, Future

9 Card Spread, 3 Rows = Past, Present, and Future Layers

21 Card Spread = Gypsy Spider Web
What is the significance and meaning?
The truth is that there is a myriad of spreads and thousands of possible readings. These nuances require an expert medium to understand the significance of these combinations. At a basic level each suit has a specific significance relating to an area of life:
Hearts represent issues regarding emotions and the home.

Diamonds are work-related and deal with issues out of the house.

Clubs are all about money and finances.

Spades indicate roadblocks to your path or other difficulties that you could be facing.
The specific meanings of each card and the way they are cut and dealt gives a good card reader a head start. It is the power of the reader's intuition that gives depth in their answers.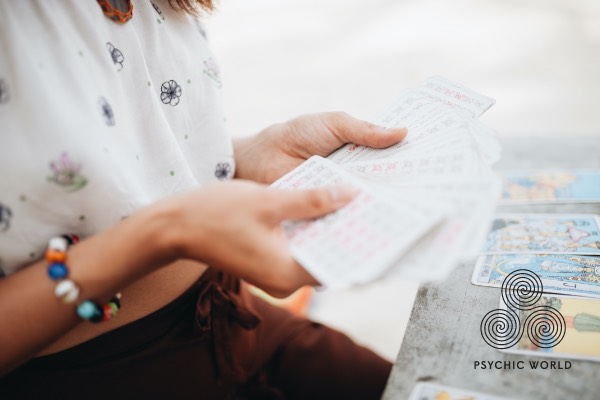 Online cartomancy reading in comfort
As with tarot cards, a cartomancy reading must be undertaken by a trained professional who is able to establish a rapport with their client. You might be wondering how this can be accomplished online? Let's remember that many forms of divination are not concerned with distance or time! They are reliant on spiritual energies that transcend both.
It therefore matters little whether you are in the same neighbourhood or halfway across the world. The results are just as accurate when provided by a highly trained guide. PsychicWorld embraces this principle and you can start a reading when it is most convenient for you. We are available 24 hours a day, seven days a week; catering to your desires and answering your questions whenever they arise.
For those of you who wish to utilise the power of PyschicWorld's network, but prefer to be in the knowledge that you are speaking with someone local, we have developed this handy tool to find a psychic near you.
Who performs readings on PsyhcicWorld
All our advisors are professional and compassionate individuals. There is little use in an online cartomancy reading if it is performed by a novice. We have made absolutely certain that all of our psychics boast unsurpassed expertise. You can expect levels of accuracy alongside a personable approach that will put you at ease.
This rapport is essential as the success of the reading is based upon mutual trust. You can therefore remain confident that even the most difficult questions will be answered with sensitivity and empathy.
Experience your first cartomancy reading!
Do you have questions regarding your career? Do you feel that your spouse is more distant than usual? You could be feeling a sense of loss and are unsure where to turn? For many everyday life issues an online reading is just what you need to begin the process of transformation. Don't hesitate and get started today!
Go to the complete overview of the best online psychics