Beginners guide to Vedic Astrology
By PsychicWorld.com©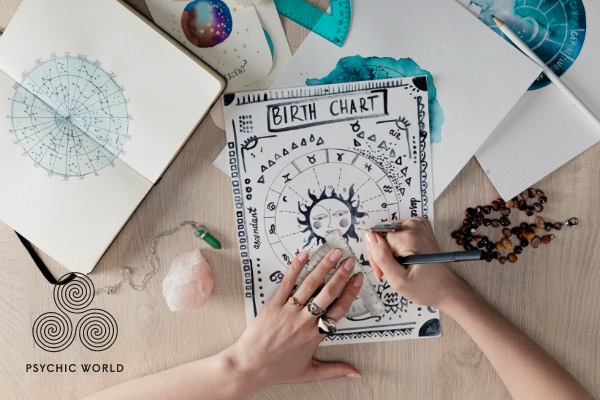 This form of astrology has been around for thousands of years, since the period of the writing of the Vedas, the oldest scriptures in Hindu literature dating back to 1,500 BCE.
The sacred Sanskrit texts that form the basis of the essential knowledge of all life, revealed through meditation to ancient sages, describe the primordial divine sound of the universe and have been recited for millennia to purify and attain spiritual enlightenment.
Steeped in Vedic thought and philosophy, Vedic astrology or 'Jyotish' (meaning 'science of light') was founded on the belief that everything in the universe is interlinked to form the fabric of life and is studied through charts based on alignments of celestial bodies and cosmic phenomena.
How is vedic astrology connected with the planets ?
The map of the stars at specific moments in time greatly influence our karma, the spiritual principle of cause and effect where intent and actions influence the future, and thus our life's trajectory is a reflection of the forces they create. Vedic astrology is the holistic observation of the movement of the 9 planets, the zodiac signs and the placement of the 12 houses, and their interaction with each other where fate and free-will are interconnected.
Vedic Astrology is so highly regarded in India that universities provide courses in the subject as it combines the study of the cosmos based on mathematics and physics with ancient wisdom, philosophical knowledge and spiritual thinking. It can offer an unrivalled understanding of destiny through the prism of the matrix of life.
What is a Vedic astrology readings ?
Vedic Readers spend many years studying this sophisticated astrological discipline and attuning themselves to Vedic philosophies that form its basis, understanding the power it has in providing a window into the soul's nature and where karma plays a predominant role in shaping the future.
Your Vedic Astrology Reading from psychicworld.com is conducted by an expert in Vedic Astrology, one that is constantly seeking to expand their knowledge of life and has perfected their abilities of reading spatial events in time and the influences it has on us. You need to know your time of birth before registering for Vedic Astrology Readings as your guide provides you with a personal service which is based upon your natal chart. This map indicating all the planetary movements at the moment of your birth will help determine how future cosmic positioning of celestial bodies will continue to affect you throughout your entire life.
Vedic Astrology Readings are very much based upon karmic laws, as well as astrological symbols. You can expect your Vedic Astrology Reading to be far more predictive in nature than a typical Western reading. Within the karmic system, it is understood that the events and actions of any lifetime is influenced by the actions of past lifetimes. In this way, the Vedic Astrology Reading highlights when you can expect such karmic reactions to take place within your current lifetime and why they will occur.
Where can you get an online vedic astrology reading ?
When you click on the psychicworld.com link for an online Vedic Astrology Reading you are signing up for a karmic reading, based on the principles of Vedic Astrology. Your Reader will be experienced in all forms of Vedic Astrology Readings, so you can obtain a comprehensive online session that will answer any questions or problems you are facing.
One of the major differences between your Vedic Astrology Reading and Western readings is that the Vedic system uses the sidereal or visible zodiac, which changes every year due to the precession of the equinoxes, instead of the tropical zodiac which is determined by the position of the sun. There are still 12 signs of the Zodiac within the Vedic system, but dates and symbols are vastly different to those of Western astrology. The influences and characteristics of individuals are also very different in Vedic Astrology. The system divides the skies into 27 different Naksatra, or lunar mansions, while each of the Naksatra is divided again into four quarters. Planetary periods are called Dashas, and the ruling Dashas for each person are known to influence their lives considerably by affecting the state of being and compelling individuals to act in the manner dictated by their planetary influences. The nine planets in Vedic Astrology combine with their periods of movement and planetary combinations to create a sophisticated system of Astrology Readings that is very effective.
Vedic astrology used by westerners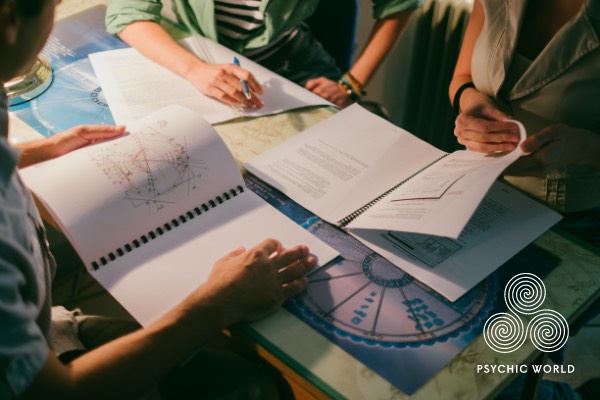 Vedic Astrology has only in the last couple of centuries been adopted by Westerners with many now displaying an interest in this form of astrology as it provides a more profound approach to finding answers to solving some of life's great mysteries. Throughout the ages, Vedic astrology has helped shed light on how cosmic events have influenced the development of human consciousness, helping us delve deeper into our psyche and providing an enlightened approach to understanding the causal effect of specific events.
Why choosing PsychicWorld ?
Your online Vedic Astrology Reading is provided by an expert within the philosophy of Vedic and karmic teaching, with significant experience of reading natal birth charts. Sourcing a good Vedic Reading in any Western locality can be difficult, so signing up to psychicworld.com for an in-depth Vedic Readings is a great way to access the best Vedic Readers from around the globe. Understanding the cosmic influences according to your birth chart will help you on the way to Karmic Enlightenment within your current life and ensure you purge yourself of negativity and stress and better prepare yourself for a brighter, more fulfilling future.
If you find yourself at a crossroads, or you are just trying to make sense of where mistakes have been made, then taking an online Vedic Astrology Reading can provide you with the direction, purpose and help needed to make meaningful decisions in life moving forward.
Go to the complete overview of the best online psychics