What is automatic writing?
Automatic writing is simply the process of a person writing or drawing, without consciously controlling their actions. In order for them to do this they have to empty their mind and sometimes enter a trance-like state. It has many uses historically and spiritually, some of which will be outlined here, particularly the benefits of online automatic writing.
Purpose
In automatic writing the hand is simply an instrument, this allows it to be used for two main purposes. Either the hand can be linked to the person's subconscious in an effort to reveal hidden thoughts and feelings or it can be attached to a supernatural spirit, such as that of a deceased person.
This kind of writing was often used in the past by artists to stimulate creative thinking, something that continues to this day. Doodling is a good example of people doing this naturally and abstractedly to calm themselves, although the circles often drawn during doodling are associated with sacred geometry.
Automatic writing was also investigated during the early days of psychology. Pierre Janet, one of the founding fathers of psychology, investigated automatic writing combined with hypnosis to explore his theories about dissociation. The possibility of it being attached to the subconscious made it particularly relevant to Freud's theories with some people believing that it could be used to access repressed memories.
History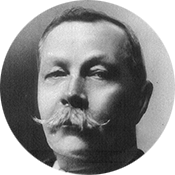 Automatic writing has been long associated with creativity and spirituality. Automatic writing as a spiritual concept and how we understand it today was first recorded and documented in 1878 in a preface of a book by Hippolyte Taine, a French critic and historian. Fernando Pessoa, a highly influential Portuguese writer also reported experiencing automatic writing. In 1918 Arthur Conan Doyle, the famous creator of Sherlock Holmes, also described automatic writing as it is described here.
There are many famous cases of people having automatic writing experiences, probably the most famous of these is Helene Smith who believed herself to be a reincarnation of a Hindu Princess and Marie Antoinette.
Practice
Automatic writing cam be a fantastic introduction to spirituality and channeling as it requires very little equipment and is a gentle introduction for people who are afraid of what they might encounter on the other side. It is an excellent exercise in patience, requiring a practically meditative state before beginning.
Practitioners typically begin by setting themselves down with their preferred medium of communication. They then begin to relax and enter a state of trance. For beginners it is often simplest to try and make a connection with themselves, whether that part of themselves is their subconscious or their higher being is their choice.
When they feel they have made this connection they simply allow themselves to write or draw. This can be done using a variety of mediums - anything from paints to a laptop.
Psychics with a lot of experience and training are sometimes able to specifically channel people that are requested of them. The messages these people convey can be very powerful and should be treated with a lot of caution. One of the benefits of requesting help from such an experienced psychic is that they are able to establish a stronger and more accurate connection with the source of the writing, using their experience to get the most accurate message possible.
Online automatic writing
In order to conduct an automatic writing session a reader must be setup comfortably in a safe and familiar environment. Generaly readers conduct sessions from the confort of their homes. Thanks to modern technology and the state of the art chat tools put at the disposal of all the experts on PsychicWorld.com, readers can fully express themselves and conduct automatic writing sessions remotely. Professional, screened psychics can convey a whole range of messages over the internet for their clients.
Online automatic writing is a fantastic way to get in contact with your spirituality and to find answers or guidance from spirits.