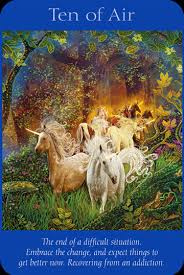 You're feeling the need to move on. What once interested you has lost its charm, and you're seeking more meaning and rewards.
This situation has ended. Fortunately, endings are always followed by new beginnings. You may feel sadness over what has transpired, mixed with welcome relief. It's time to walk away and embrace the dawning of a new day. Expect your circumstances to improve.
It may be time to change your career. Perhaps you've completed a long-term project or have decided to pursue other employment. Don't put limits on what wonderful things the Universe can bestow. Cast your net wide and see what fantastic opportunities you might catch!
---
Become a better version of yourself
Chat with a live online psychic
Welcome offer - Double your chat credits
*Chat 20 minutes for only 10 dollars
Register now

Offer valid until:
Tonight 23.59
65 coupons available
More PsychicWorld
Choose your favorite angel tarot card and read your message
Major Arcana Angel Tarot Cards
Minor Arcana Angel Tarot Cards
Fire
Air
Earth
Water