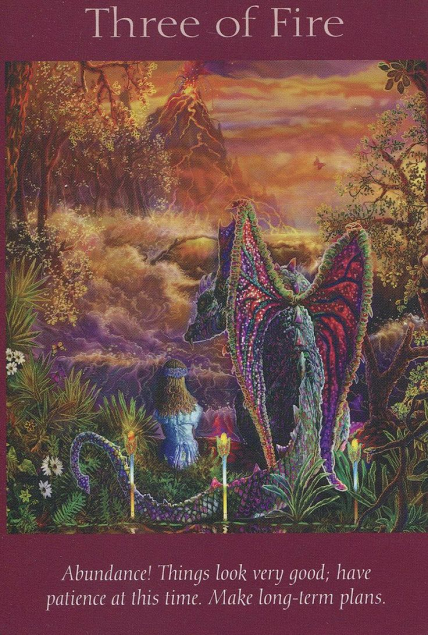 You're feeling the need to move on. What once interested you has lost its charm, and you're seeking more meaning and rewards.
The Three of Fire shows that you've come into your own and there is still more ahead of you. It's time to take what you've learned in the past and apply it to the future. You can make long-term plans now.
Because of the experience you have, you are able to foresee what to expect from the future, and that allows you the space and wisdom to look for the opportunities that are available to you. Make sure that you consider the big and the bold as well, as this is a time for expansion and progress.
Challenges will be easily avoided or overcome in this time - considering your experience in the past and ability to look ahead and see what really lies in store. You can turn challenges into opportunities to grow and prosper during this time.
This also might relate to travel to far away places - truly expanding your horizons. You might have been dreaming of a trip half-way around the world or considering a transcontinental move. All systems are go when you see this card in your reading.
---
Become a better version of yourself
Chat with a live online psychic
Welcome offer - Double your chat credits
*Chat 20 minutes for only 10 dollars
Register now

Offer valid until:
Tonight 23.59
65 coupons available
More PsychicWorld
Choose your favorite angel tarot card and read your message
Major Arcana Angel Tarot Cards
Minor Arcana Angel Tarot Cards
Fire
Air
Earth
Water